We are constantly adding new templates with new elements, new designs, and the latest trend, often accompanied by new features. 
However, you might have a different template in mind for your campaign. Not to worry! Here are three options for you: 
1. Tweak A Similar Template
Find a template that is similar to what you want and customize it. For example, it may share any of the following similarities: 
a particular type of concept 

 

a certain layout, or look and feel

 

content structure or navigation

 

a particular part, for example, to embed in a website or blog

 
If you do find a similar template, you can then change it as much as you want using the Editor. The Editor gives you full design freedom! With an easy drag & drop feature, you can make as many changes as you want, with limitless possibilities! 
To get to the Editor, just click on the "Editor" button on the Quick Edits page to start making changes. 

You can also take different parts of templates and combine them. For example, you can use the layout and design of one template but swap or add on from another template. For this, you need to use the Editor, and click on the Parts feature, as shown below: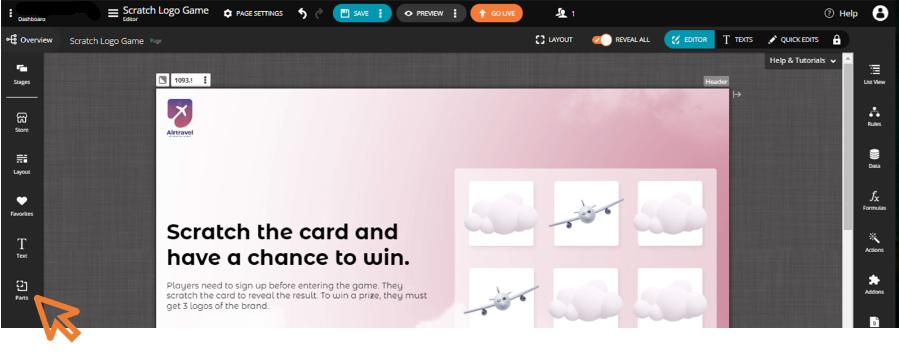 2. Start with a blank page
If you have mastered or wish to master the full potential of the Editor, you can build your own template by starting with a blank page. For that, first, click on "Create a project."

Then, you will be redirected to the Templates section. Here, scroll down and click on the "Start with a blank canvas" button. 
Tip: When starting with a blank page, you can speed up your work by using the Parts feature for ready-made blocks of content. You can then continue to build your own  
3. Leave it to us! 
No time? No worries! Just leave it to us, and we'll do it for you. 
We've helped our clients achieve amazing results with customized templates created by our team of Interactive Experts. 
Learn more about our agency services.