You can browse our wide variety of customizable templates on our Templates section (formerly called Marketplace).  
Our templates are easy to use, ready-made content. You only need to add your branding, such as logo, colors, and any other design aspects, and customize the content itself, such as the questions and answers of a Personality Test. 
Experience type
Use the categories to filter templates by Experience Type (Guided Selling, Marketing Games, Interactive Flipbook, etc.) and Selections (Seasonal Marketing Campaigns, Event Marketing, and Contest), so you can more easily find templates suitable for your interests or more immediate needs. 
To learn more about the various Experience Types and what they can do for you, hover your cursor over the Solutions tab in our website navigation bar. Then choose which Interactive Content type you would like to read more about. 
Alternatively, you can type a keyword in the search bar. For example, if you type "beauty," the results will show relevant templates. See the screenshot below. 
The results will always highlight our newest templates.  
When you open a template, you can also scroll down on the page to the "Related Templates" section, which will display more ideas.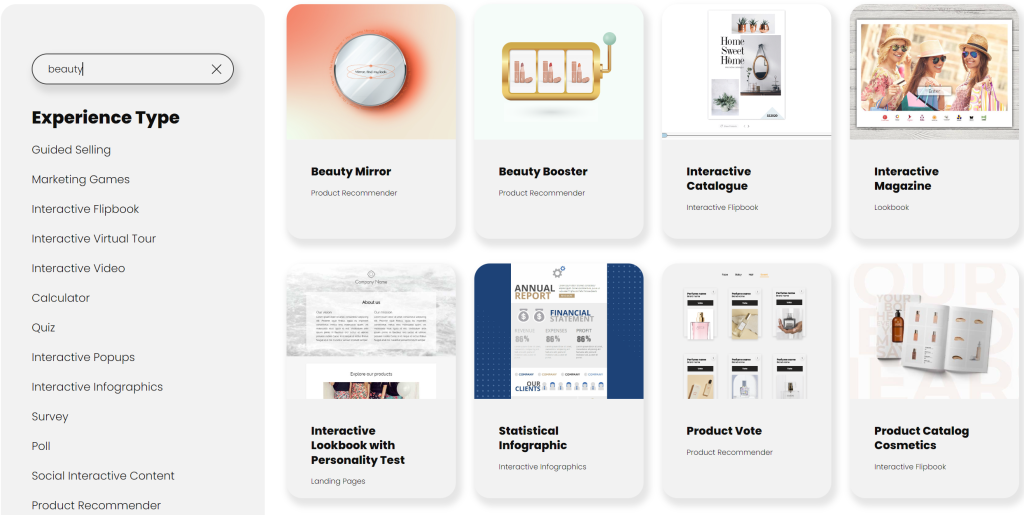 viewing the template
To know more about a specific template, click to view and interact with it. Scroll down to learn more about the template and what it can do for you.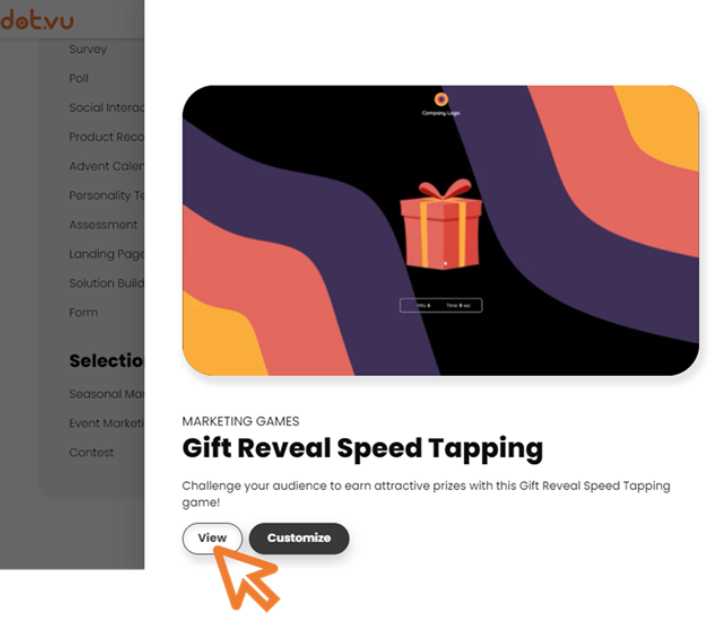 How Can I Use A Template?
In order to use a template, you must first have a free account on Dot.vu. If you don't have one yet, you can get started here.
If you already have an account, go to your Dashboard, and from the Projects tab, click "Create a Project." You will be redirected to our templates, where you can explore 300+ concepts.
Once you pick a template and confirm your choice, you will land on our Introduction board that will give you a basic overview of the experience's logic and workflow. Then, you can start customizing the template and turn it into your branded experience.
how to select & use a template?
Do you already have an account with Dot.vu?
In order to use a template, you must first have an account with Dot.vu (it's free!). Having an account makes it easier for you to save your work and get back to it in the future. If you don't have an account yet, you can click here to create your account.  
If you already have an account, you can either:
1. Click the "Customize" button if you want to start working on the template that you viewed, or 
2.  If you are currently on your Dashboard, click "Create a Project," and you will be redirected to our Templates Section to choose your template.