Whether you're a busy marketer who needs lightning-fast results, or an agency who needs full control over design and logic, we have the tools to match your needs. 
In this help guide, you will be acquainted with our platform in 6 easy steps. You'll be creating amazing Interactive Content in no time! 
Steps & Features:
1. Templates & Quick Edits 
2. Editor
3. Save & Preview buttons
4. Go Live
5. Dashboard
6. Agency Services
1. Templates and Quick Edits 
Dot.vu provides a wide range of customizable templates across many Interactive Content types. 
Templates are ready-made content that only requires you to add your branding, such as logo, colors, and any other design aspects, and customize the content itself, such as the questions and answers of a Personality Test. The templates are also very modular, so you can easily remove and add new parts. 
To browse and choose your template, see the different Experience Types on our Templates page.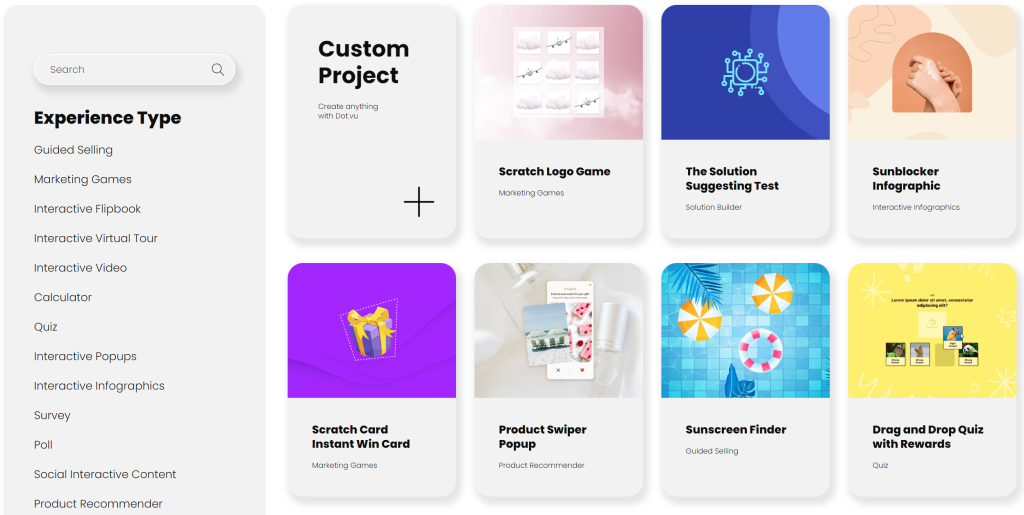 To know more about a specific template, click to view it and learn more about the template and what it can do for you.
After you have made your choice, click on the "Customize" button to get started. You will be redirected to the Quick Edits page.
Our Quick Edits feature enables you to make quick and easy changes to the template. Here, you can make changes to general settings, start page, texts, lead form, and even configure prize draws for contest templates. Just follow the steps (on the left column) to effortlessly configure them.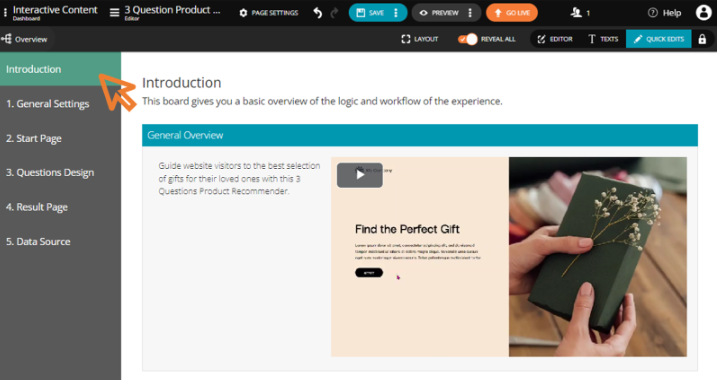 2. Editor
If you wish to unlock full design freedom, customize page logic and behavior, or you want to create something new, our powerful Editor has got you covered. All parts are customizable – just let your creativity soar!
Bear in mind, though this feature also does not require any coding, it is more complex compared to Quick Edits.
To switch to the Editor feature, click on the Editor button.

What else should I know about The Editor?

3. Save & Preview buttons
The Save & Preview buttons are conveniently located at the top center section of both Quick Edits and Editor.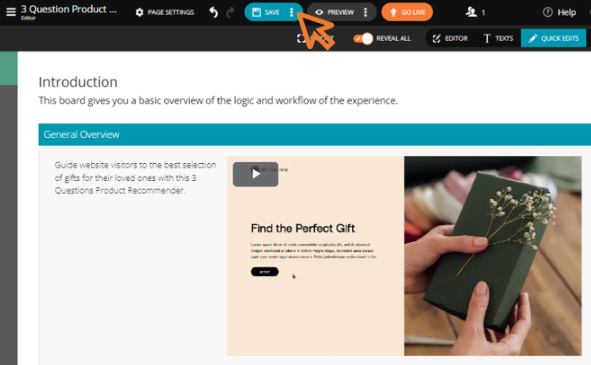 After editing a template, you can click on the "Preview" button to check if everything is in order.
In the Preview, you can also view different device types by clicking on the "Fullscreen" button as shown below.
All templates on Dot.vu are both adaptive and responsive – so you do not need to worry about the device type for an optimal Interactive Experience.
4. Go Live
Once you're done customizing your template, it's time to Go Live! To "Go Live" means your Interactive Content template will be available online for everyone to see.

There are 4 options in the Go Live drop-down menu:
1. Offline: You can either select this to have a final look at your draft before you Go Live.
2. URL: This will be your URL once you have gone live. You can copy this link to share with others and also post it on your social media page.
3. Put on website: You will be guided with steps to embed your content on your website.
4. Go Live: Click this button to Go Live.
5. Dashboard
Within the Dot.vu Dashboard, you'll find a range of features designed to streamline your interactive marketing efforts.
Here you'll be able to see an overview of your projects, giving you a snapshot of all the Interactive Experiences you've created. This allows for easy management of your campaigns.
In the Analytics tab, you'll be able to view valuable insights of your project's performance. Our fast integrations with Google Analytics, Google Tag Manager, and Adobe Analytics enables you to:
Track conversion rates
Traffic
Drop-rates
Interactions
Measure the success of your interactive experiences
You can also define your KPIs and set up custom tracking to measure each project.
Valuable audience data is also captured here. This data enables you to understand your audience better and can be used to personalize your marketing efforts and deliver targeted messaging for more effective campaigns in the future.
To learn more: Getting to know your Dashboard
6. Agency Services
Or, you can leave it to us! We'll handle it for you. We know that today's demand for content has put significant stress on every marketing department. Worry not, we can customize the content for you so you can focus on strategy, brand, and managing your campaigns.